Aquarium tropical
Visit Aquarium tropical. Reopening 1st June 2021.
Image

84 aquariums from 50 to 16,000 liters offer a real voyage through tropical oceanic and continental waters!
In this incomparable atmosphere, "dive down to the coral reefs", "navigate" the rivers of the Amazon and Asia, "see" the depths of the great African lakes and Central American caves, or "walk through" a mangrove.
Piranhas, seahorses, rays, unicorn fish, albino alligators, electric fish, clownfish, surgeonfish, are some of our stars familiar to visitors. But they are not the only ones! 
Since 1931, the Tropical Aquarium exhibits more than 500 different freshwater and saltwater species of fish, corals, marine organisms, turtles and crocodiles, presented in tanks and vivariums that recreate these various environments. 
Image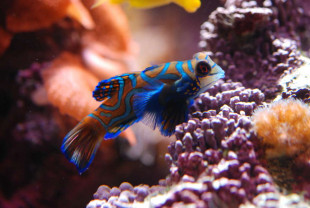 synchiropus splendidus
These veritable living tableaux, enriched and carefully checked every day by our team of aquariologists, will make you marvel at the incredible beauty and biodiversity of nature. You will discover a host of astonishing aquatic animals, observe their relationships and behavior, understand how these environments function and realize the imperative need to preserve them. 
Jacques-Yves Cousteau said: "We protect what we love and we love what we know." 
At the Tropical Aquarium you will learn about these fascinating tropical waters, understand them better and love them more.
Practical Information
Opening hours
Tuesday to Friday 10 a.m. – 5.30 p.m.
Saturday and Sunday 10 a.m. – 7 p.m.
Closed Monday
Admissions
Full price: 8 € 
Reduced price: 5 €
(includes entrance to the Aquarium and temporary exhibit)
Online reservation required.