The Museum Collections
Image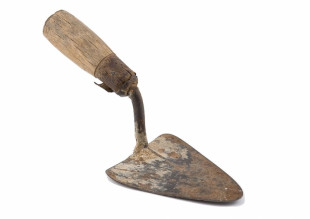 La truelle de Luigi Cavanna. Photo : Lorenzö © Palais de la Porte Dorée
Chronologically, it meant analyzing the history of immigration in France, from the beginning of the 19th century to the present time and from a methodological point of view, defining the major events, its long progression and the plurality of views within its communities, whether national or in exile.  
To reach the widest possible public, it was necessary to present an engaging account of the history of immigration in an attractive museum where each visitor would be given the opportunity to understand a part of the nation's experience that had been occulted for so long. 
A Multidisciplinary Museum
How can a complex, sensitive expression of a history, often painful, be made attractive? The museum opted for comparative views: 
The historical view that proceeds from events recorded in the archives to arrive at the present time and place two hundred years of immigration to France in their context.
The anthropological view in turn is based on an observation of contemporary events in order to return to the past, and using the words of migrants, analyze the development of individual identities. 
The artistic view proposes a subjective, esthetic, even emotional interpretation of migration.
By establishing a dialogue between these various disciplines, the museum wishes to help us comprehend without imposing truths and to introduce knowledge without excluding new issues. The social and historical context is thus associated with the singularity of lives and artistic interpretations. It is also through this comparison of views that the museum hopes not only to make this history comprehensible, but that it may enable the public to visit the permanent collection with an open mind. 
Image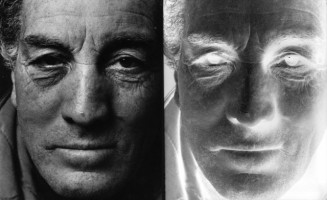 Hamid Debarrah, Faciès inventaire. Chronique du foyer de la rue Très Cloître, 2002 © Palais de la Porte Dorée
Three collections
The Historical Collection
Image
Carnet anthropométrique d'identité "Nomades",1951 © Musée national de l'histoire et des cultures de l'immigration
Comprised of documents in the archives from various government services, newspapers and other publications of the period, posters, caricatures and cartoons, this collection also lays emphasis on images. 
Photographs represent one of the essential elements for compiling and developing the collections. By turns a work of art or an historical document reflecting collective destinies like life histories, the image lends a human dimension to immigration. 
Beginning in the 1950s, the number of photographs directly linked to the living conditions of immigrants – work and housing – considerably increased. Several photographers then devoted the greater part of their work to immigration, such as Gérard Bloncourt, Yves Jeanmougin, Jean Pottier or Jacques Winderberger.
See a selection of works from the historical collection
Contemporary Art Collection 
Image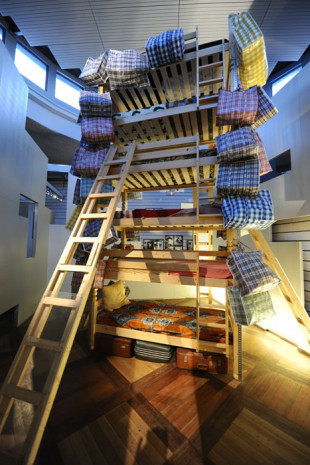 Climbing down de Barthélémy Toguo, 2004 © Musée national de l'histoire et des cultures de l'immigration
Today the issues of immigration, territory, borders and roots are at the heart of the creative approach of a great number of artists, French or foreign, living and working in France. In addition to its role in illustrating the subject, the museum wishes to study this production and progressively compile a collection that reflects this phenomenon. 
In its formal diversity and above all in its polysemy, the work of art – photograph, video, installation, sculpture, writing – allows an additional concept to be introduced. In tackling the documentary, it goes a step farther to achieve a symbolic dimension and instill emotional intensity.
See a selection of works from the art contemporain collection
The Ethnological Collection
Image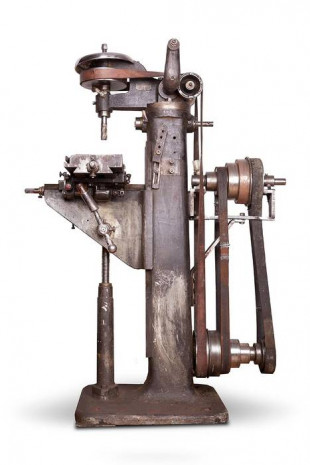 La fraiseuse d'Emilio Reig. Don d'Isabelle Reig-Raboutet.  Photo : Lorenzö © Musée national de l'histoire et des cultures de l'immigration
Even if the ethnographic object does not exist as such, it obviously has its place in the museum's collections. 
Given the challenge represented by the definition of a heritage of immigration, it seems indispensable to us to associate closely or distantly descended migrant populations with this work. The collection of objects makes it possible to record the memory of those who owned them.
Personal accounts are therefore fundamental. They may be direct (filmed account during the person's lifetime) or indirect (account left in writing or transmitted orally). 
It may seem astonishing that "simple" everyday objects can turn out to be "iconic". It is in fact not only a scientist's view, in this case an ethnologist's, but also their quality as depositories of life stories that create their interest as ethnographic objects.