Support the Palais de la Porte Dorée
A Palace built by the greatest artists of the 1930s
Image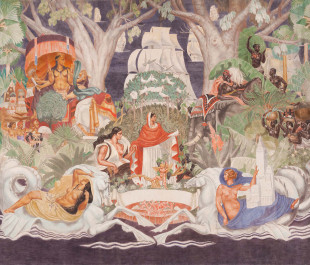 Fresque centrale du Forum, photo Lorenzö © Palais de la Porte Dorée
Laprade, Ducos de la Haille, Janniot, Subes, Prouvé... so many great names who signed the architecture, the decoration and outfitting of the Palais de la Porte Dorée. Distinguished by the sobriety of its lines and its imposing size, it is a site where numerous artists – the best of the period and some known internationally – masterfully expressed their creative talent. 
Numerous projects to support
In order to continue the policy of restoring and enhancing the palace, as well as improving visiting conditions, currently several projects are under study: 
To enhance the floors, textiles and furniture in the historic Paul Reynaud and Marshall Lyautey rooms that are rare examples of this Art Deco period open to the public;
To renovate outside pools, modernize water treatment facilities, replant and refill the fountains;
To restore the Aquarium greenhouse; 
To upgrade the Tropical Aquarium for better visiting conditions, especially for the handicapped; 
To develop the historical tour of the building's interior.
Attractive Incentives
Companies wishing to preserve this exceptional heritage by putting means and expertise at the service of the Palais will find many incentives to do so: 
Patrons sensitive to the beauty of the site will be able to share their enjoyment in the Palais with their clients during awards ceremonies, product launches, seminars, conferences, business meetings, prestigious public relations campaigns (receptions and gala dinners, private visits)...
"Privileged" guided visits, tickets to temporary exhibits and shows offered to staff, partners or clients to discover the Palais, the aquarium and the museum of the history of immigration; 
"Tailored" formulas: private visits or concerts;
The company's logo will appear on all communication tools and the partnership will be cited. 
Finally, financial valorization of this support is eligible for fiscal advantages under the procedures in effect, with a fiscal reduction of 60% for amounts paid for any patronage operation, not exceeding 0.5% of total revenue.
A Site and cultural projects 
If some patrons take a greater interest in the heritage of the Palais, others may wish to lend their support and skills to cultural projects. The Museum of the History of Immigration like the Aquarium, organize temporary exhibits, conferences and debates, workshops for all audiences, artists' residences as well as activities for children during school holidays.  
Image