Accessibility at the Palais
As a public cultural establishment, the mission of the Palais de la Porte Dorée is to welcome all kinds of public, taking into account their diversity and any specific needs. Below you will find some practical information on building accessibility and the available facilities. 
Image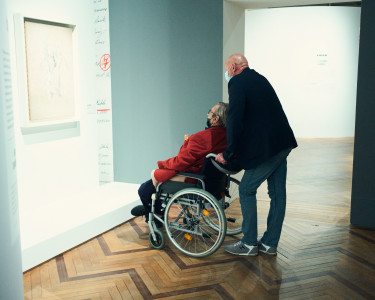 Photo : Cyril Zannettacci © Palais de la Porte Dorée
At the corner of Place Édouard Renard and Rue Armand Rousseau, a handicap ramp provides access for visitors with reduced mobility. A stabilised pathway leads to an elevator located behind the administrative entrance, to the right of the main entrance.
Image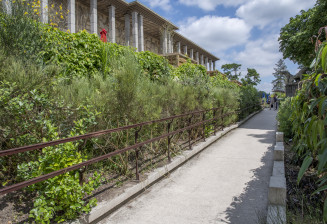 © Palais de la Porte Dorée
The facilities in place allow handicapped visitors to access the entire building. The ground floor hosts the Hall of Honour (cloakroom, reception desk, ticket office, café, single-sex toilets), the auditorium, the Forum, the historic salons and the Marie Curie hall.
The Tropical Aquarium is on the garden level, accessible via the staircase or an elevator located to the left of the café.
The Musée National de l'Histoire de l'Immigration is on the second floor, accessible via the staircase or an elevator located to the right of the ticket office.
Parking for handicapped visitors
A parking spot is reserved on Avenue Armand Rousseau opposite the access ramp, along with two spots within the Palace premises.
Other adapted parking spots are located close by: 15 avenue du Général Laperrine (70 metres away), 1 and 3 Avenue Armand Rousseau (60 metres away).
To gain access to the establishment's parking spots, visitors are invited to contact us by email at publics@palais-portedoree.fr, prior to your visit.
Reception and services
Staff at the Palais receive regular training on welcoming handicapped visitors.
Wheelchairs or cane seats are available for loan free of charge at the cloakroom, on deposit of proof of ID, within the limits of available wheelchairs and seats.
An induction loop is available for use by visitors.
Audiophone equipment for guided visits is compatible with hearing devices.
Service dogs are welcome at the Palais.
Image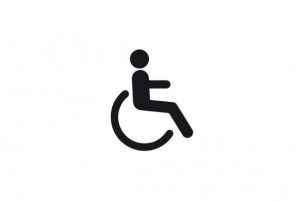 Handicapped access
Access to all areas of the Palais is free to handicapped visitors and their chaperones.
Image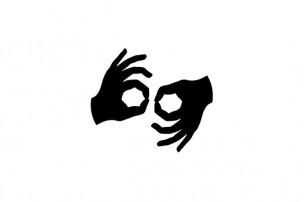 Visits in French Sign Language
Guided visits of the monument in French Sign Language are regularly available, for visitors who are deaf or hard of hearing.
Image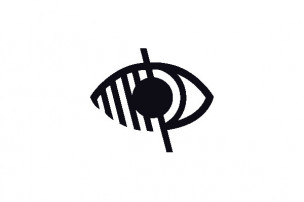 Sensory visits
We offer sensory visits accessible to blind or partially blind visitors on an occasional basis to discover the history and architecture of the Palais.
Admission - handicapped visitors
Free admission to the Museum and the Aquarium (advance reservation is strongly recommended))
Reduced rate for guided visits and shows: €9 instead of €12.
Reduced rate for family workshops: €9 instead of €12
Online reservation : Ticketing
An app for exploring the Palais
Image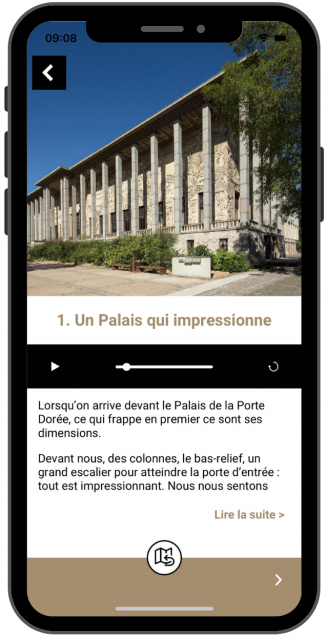 Application mobile
© Palais de la Porte Dorée
The official visiting app for the Palais de la Porte Dorée is available to guide you in your discovery of the monument.
It's an excellent way to explore the Palais at your own pace, stopping at strategic places to listen to the theme-based visits recorded by our mediators.
Group visit options
Image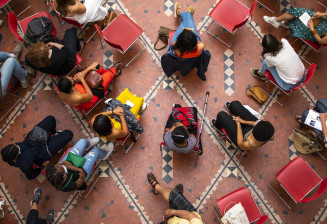 © Palais de la Porte Dorée
Les visites autonomes (sans conférencier) du monument, du Musée et de l'Aquarium sont gratuites pour les groupes composés de visiteurs en situation de handicap. Réservation au minimum 2 semaines en avance.
Les visites guidées (avec conférencier) sont au tarif réduit de 100€ pour les groupes relevant de l'accessibilité. Réservation au minimum 4 semaines en avance.
Self-guided visits (without a tour guide) of the Monument, the Museum and the Aquarium are free for groups of handicapped visitors. Please reserve at least 2 weeks in advance.
Guided visits (with a tour guide) are at a reduced rate of €100 for groups with a connection to accessibility. Please reserve at least 4 weeks in advance.