Patrons
Located in Paris on the outskirts of the Bois de Vincennes, the Palais de la Porte Dorée is an exceptional Art Deco creation, classified as a historic monument and open to the public. It is home to the Musée National de l'Histoire de l'Immigration and the Tropical Aquarium.
Support the Palais de la Porte Dorée
The mission of the Établissement Public du Palais de la Porte Dorée is to collect, catalogue, conserve, enrich and communicate the heritage it has been entrusted with. It provides access for as many people as possible to collections and exhibitions on-site, at remote locations, and develops projects on a national and international scale.
The establishment is always looking for patrons for all its projects: exhibitions, content and digital set-ups, enriching collections, cultural programming, mediation and educational projects, publications.
While some patrons are particularly attached to the heritage relating to the Monument, others can provide their support and skills for actions taken by the Museum and/or the Aquarium.
Become a monument patron
Image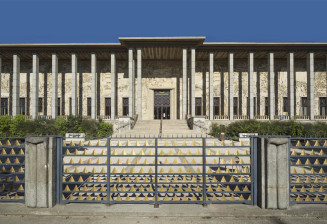 Laprade, Janniot, Ducos de la Haille, Ruhlmann, Printz, Subes, Prouvé, Poillerat... all these great names contributed to the Palais's architecture, decoration and fixtures in 1931. Characterised by its minimalist lines and imposing dimensions, it has been a place of creation for many artists.
Built for the International Colonial Exposition of 1931, the building provides an introduction to France's inter-war colonial empire.
To pursue the policy of restoration and improvement of the Palais, several projects are in search of patrons :
A major exhibition on the Colonial Exposition of 1931, spanning the whole establishment, in the Monument, Museum and Aquarium, in Autumn 2024.
Enhancement of the mosaics and frescoes, art ironwork and light fixtures, rare testimonials to this Art Deco period.
Development of the historic visitor trail inside and outside the monument.
Become a Museum patron
The Musée National de l'Histoire de l'Immigration is entrusted with the task of creating, conserving and presenting to the public a representative collection of the history, arts and cultures pertaining to immigration. This collection presents a new look at the history of France, showing the contribution made by immigrants to the country's economic development, social evolution and cultural life.
The temporary exhibitions and cultural agenda are enhanced by programming that spotlights the artists, creators, researchers and writers who explore the areas of immigration, its history, or cultural diversity in France and worldwide.
To assist with expanding the Museum's influence and actions, several projects are in search of sponsors :
Re-opening of the permanent exhibition in Spring 2023 with an extended and totally redesigned visitor trail.
Upcoming temporary exhibitions at the Museum.
The Museum's programme of activities for school students or audiences lacking easy access to culture.
Enrichment of the collections.
Became an Aquarium patron
The Tropical Aquarium is part of the larger community of science culture centres. With 20% of its visitor base consisting in school students, it assists teaching staff in their educational activities, working with education authorities and players. The Aquarium also plays a central role in networks linked to the aquatic world where many partners provide their assistance and expertise.
To help promote the development of the Aquarium, several projects are in search of patrons :
For the next three years, the Tropical Aquarium has planned the gradual replacement of all its tanks, section by section.
Additional resources would enable the "Madagascar" project to enhance and reinforce local action, which has scientific as well as educational goals.
Attractive benefits
Patronage comes with many benefits :
Patrons will be able to share their appreciation of the Palais with their clients, for awards ceremonies, product launches, seminars, conferences, work meetings, prestige public relations operations (gala evenings and dinners, private visits)...
"Privileged" guided visits, tickets to temporary exhibitions and shows can be offered to employees, partners or clients, to discover the Palais, Aquarium and Museum
"Bespoke" formulas: private visits or concerts can also be organised
The company logo will feature on our communications tools and the partnership will be mentioned.
Lastly, financial support is eligible for the tax advantages provided for in current French legislation, with a 60% tax reduction on sums paid out for patronage operations, up to a limit of 0.5% of total sales.
Contact
Benjamin Béchaux, Development and Communications Director.
For further information, please contact the Director of the Patronage department, Isabelle Pernin at mecenat@palais-portedoree.fr or 01 44 74 85 27
Thank you to our patrons
Image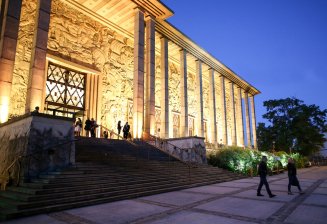 Palais de la Porte Dorée © O.Tavares
Our very warmest thanks go to our patrons and we invite you to discover their actions.