You are a member
Image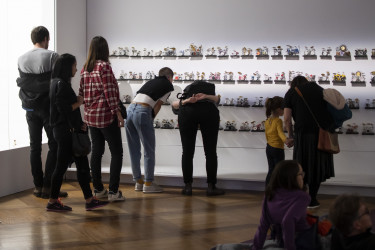 Bonne nouvelle, votre carte d'abonnement évolue !
Les trois cartes d'abonnement annuelles du Palais se transforment en une carte unique !
Au programme : plus de flexibilité et de liberté grâce à la nouvelle Carte Palais qui laisse le choix de visiter en illimité et gratuitement l'Aquarium tropical et le Musée de l'histoire de l'immigration.
Tous les abonnés dont la durée de fin de validité est comprise entre le 20 juin 2023 au 20 juin 2024, bénéficient d'un passage automatique à la nouvelle carte Palais.
The advantages that come with your annual card
Unlimited free access for a period of one year to the Museum and/or Aquarium (depending on card selected)
Reduced admission to shows and cultural activities (guided visits, workshops)
Exclusive invitations to exhibition openings and certain shows and events on the Palais's schedule
5% reduction on books, catalogues and publications
10% reduction at the Café du Palais and the Poisson Lune summer terrace
10% reduction on related merchandise  
Great deal ! Your card will have paid for itself by your third visit !
Membership renewal modalities
When you renew your membership within the month before your card expires, you can get a 15% reduction. Membership renewal can be done online or on-site, at the ticket desks at the Palais de la Porte Dorée. Feel free to switch formulas on renewal!
Still have some questions ?