FAQ privatisation of our spaces
Image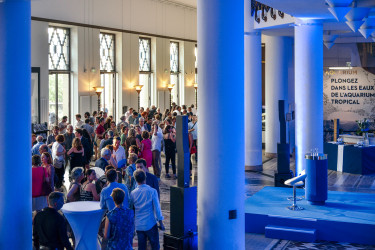 Is it possible to privatise spaces when they are open to the public?
Yes, most spaces can be privatised even when open to the public.
Is the choice of providers imposed?
The choice of providers is free. If you wish, a list of recommended providers is available.
Are the spaces equipped?
The Auditorium is fully equipped (sound-light-video control, furniture, folded or unfolded seating), as are the workshop rooms.
The Forum and the Marie Curie Hall are available, empty of all furniture.
Is it possible to privatise the Tropical Aquarium?
Yes, as part of a private visit it is possible to serve a cocktail in the evening until 9pm and during the day only on Mondays.
Is it possible to organise dance parties?
What are the time constraints in the evening?
The Establishment must be closed at 02:00 maximum (excluding the dismantling period).
The Tropical Aquarium must be evacuated by 9pm.
Is the school equipped with Wifi?
Yes, public Wi-Fi is available.
Does the institution have a cloakroom?
Yes, depending on the expected number of participants and the timetable, staff must be provided and paid for by the organiser.
Is there a car park nearby?
It is very easy to park in the Palais de la Porte Dorée area and a one-off solution can be offered for about 60 vehicles.
What are the practical arrangements?
The sponsorship and commercial activities department is your direct contact. It takes charge of your file at the administrative and commercial level. As coordinator, it remains your privileged contact before and during the event.
An agreement for the provision of space is drawn up prior to the event and a deposit is required before you can enter the premises.