Reception areas
Choose between four large reception areas, among them the tropical aquarium and an outer court of 1400m2 enhanced by a landscaped garden.
The Hall d'honneur
Bathed in light, the Hall d'honneur is ideal for organizing a reception or a dinner party. On either side of the Hall, the oval Lyautey and Reynaud rooms, respectively dedicated to the traditions and cultures of Asia and Africa, have remained untouched since 1931.
Image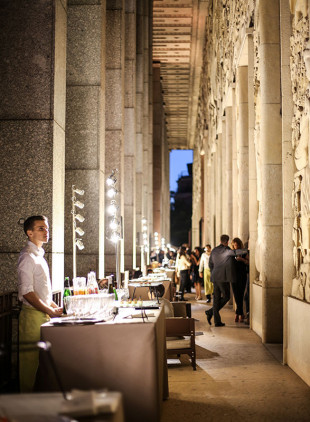 Le péristyle du Palais de la Porte Dorée. © O.Tavares
The Hall d'Honneur extends to a peristyle of 200m². In warm weather the terraces are particularly appealing. They make a perfect vantage point to admire Janniot's magnificent bas-reliefs covering the 1,130m² of the façade. 
You can book the area outside the visiting hours for the public, in mornings before 10 a.m. and evenings after 5.30 p.m. (7 p.m. Saturday and Sunday), as well as Monday (closing day).
Receptions up to 450 guests. Dinners up to 200 guests.
The Forum
Former reception hall of the Palais de la Porte Dorée, the Forum's architecture and volume (27m in height) are impressive, as are its monumental frescoes by Pierre-Henri Ducos de la Haille (renovated in July 2011) and its unique atmosphere. 
The Forum is a particularly privileged space for gala dinner parties and receptions in the evening but also during the day. Its meeting areas fitted with face-to-face benches under large parasols make for an agreeable break during seminars.
Cocktails up to 800 guests. Dinners up to 450 guests.
Hall Marie Curie
On the same level as the Forum and the Auditorium, the Marie Curie Hall offers a vast space that can easily be converted to a specific use, and is ideal for organizing receptions, fashion shows, product presentations or conferences.
Seating events up to 250 guests. Cocktails up to 450 guests.
Tropical Aquarium
The Tropical Aquarium occupies the ground floor of the Palace. The 85 tanks and 2 terrariums present some 15,000 animals and 750 sea and freshwater species, reptiles and plants, depending on current exchanges, births and acquisitions...
At the moment, two rare specimens, young albino alligators are the pride of the Tropical Aquarium.
The Tropical Aquarium can receive up to 250 persons for a reception. The lights in the aquariums are turned off at 9 p.m. 
The Parvis
With an area of 1 400m², the parvis is lined with an enclosed garden which can be entirely or partly privatized, alone or alongside another room. The location enables to enjoy the view of the Palais's facade and the tree-filled environment of the bois de Vincennes at the same time.
During the summertime, the Parvis turns into a pop-up terrace, with warm, chilled and party vibes!
Contact
Direction du développement, des publics et de la communication
Isabelle PERNIN, Responsable du service Mécénat et développement commercial
Elisa NICOLAS, Chargée d'activités commerciales
Reservations and quotes on request:
location@palais-portedoree.fr