Equality and diversity labels
Since 2017, the Établissement Public du Palais de la Porte Dorée has been involved in the AFNOR certification procedure through the "professional equality between men and women" and "diversity" labels, within the framework of a policy initiated by the Ministry of Culture, for its central and decentralised administrations and for all public establishments under its authority.
Image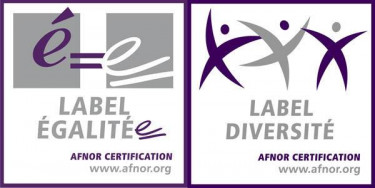 The Palais de la Porte Dorée has been awarded the renewal of both its "gender equality" and "diversity" labels in 2023, for a period of 4 years. In addition to the labeling process itself, the establishment is pursuing its efforts over the long term, as part of a continuous improvement process.
This concerns all aspects of our business: scientific and cultural offerings, communications, visitor reception, human resources policy and public purchasing....